Bilimbi
Averrhoa bilimbi
a.k.a. Cucumber Tree, Belimbing
Multi-lobed, oblong fruit with a pale green waxy skin and crunchy but watery flesh, very similar to the star fruit, although the flesh is much more acidic.

Seed Availability
Seeds are now available at our seed store.
Description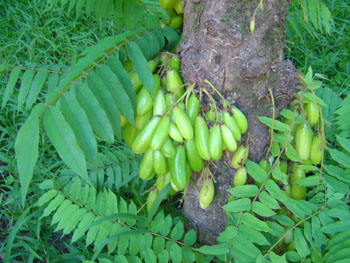 A pretty, usually small or medium sized tree growing to 15-30ft. The leaves are borne on leaflets often containing several dozen smaller leaf-pairs, which close together at night. Flowers bloom from the trunk, often in great number toward the bottom of the tree. Fruits follow, and a single tree often produces hundreds and hundreds of fruits.
Hardiness
Hardy to 32F. Generally not as cold hardy as the star fruit. Sunset Zones: 22-25 USDA: 10a+
Growing Environment
The bilimbi prefers a tropical environment, and generally needs year-round water. Keep humidity relatively high.
Propagation
By seeds.
Uses
The most common use for the fruits is a flavoring for prepared fish and meat dishes. Fruits are also used for beverages and preserves. They are quite acidic and unlike the star fruit, are usually not eaten fresh out of hand.
Native Range
Native to Indonesia. Grows semi-wild throughout southeast Asia. The tree is also cultivated in parts of southeast Asia.
Additional Pictures
Related Species