Yatzi
Bomarea acutifolia
Subtropical/tropical vine known for its beautiful flower clusters and edible roots.

Seed Availability
Seeds are now available at our seed store.
Description
Subtropical/tropical vine to 10-20ft.
Hardiness
It will survive to about 32F, but generally only for brief periods of time.
Growing Environment
It grows well in cool subtropical climates with 40-60F temperatures and foggy skies. Vines also do well in tropical conditions. Water only during growth months, and if growing in cooler climates, don't water during the cold months. Grows well in part shade and shade.
Propagation
By seed which benefit from a 2-4 week cold stratification at 40F. Also propagated by cuttings.
Uses
Usually grown for its pretty red-orange flowers which bloom in large clusters for much of the year. Tubers are also edible when cooked.
Native Range
Native to Mexico.
Additional Pictures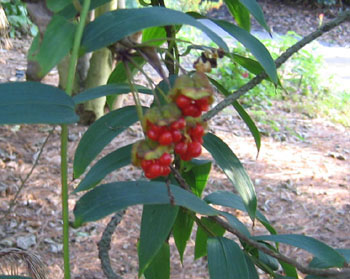 Related Species