Gamboge
Garcinia xanthochymus
a.k.a. Garcinia tinctoria, False Mangosteen, Yellow Mangosteen
Golden yellow berry fruit, 3-4" in diameter with a yellow, juicy, and acidic pulp usually containing two seeds. Flavor is quite tasty, and a bit sour.

Seed Availability
Seeds are now available at our seed store.
Description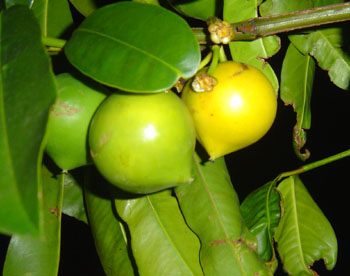 Medium sized tree with large leaves. Flowering occurs between March and May.
Hardiness
Trees are fairly hardy, easily surviving temperatures to 32F with no injury. Protection should be given if temperatures drop below 32F for any length of time.
Growing Environment
Unknown, but trees seem to need little care other than regular water.
Propagation
By seeds.
Uses
Fruits can be eaten fresh out of hand. Often used in making jams. Can be used as a substitute for tamarind in cooking. Fruit juice and bark extract are used as dyes.
Native Range
Native range from India through Malay peninsula.
Additional Pictures
Related Species