Atemoya
Annona cherimola x squamosa
One of the best Annona's, often having a fruitier flavor than the cherimoya. Fruits tend to be about the size of a sugar apple, often have knobby, green skin, and a custard-like flesh. Fruits may turn slightly yellow when ripe. Atemoya's are high in vitamin C.
Seed Availability
Seeds are not available for the Atemoya. Please visit our seed store to view current selections. Seeds were last available in December 2017.
Description
Fairly fast-growing tree closely resembling the cherimoya. Trees often stay small, growing only to 15ft, but may reach up to 30ft. Fruits can be of variable size, but generally range 3-6" long. Fruits may weigh up to several pounds.
Hardiness
Hardy to about 28-30F.
Growing Environment
Trees usually do not self-pollinate, hand-pollination tends to produce much higher yields. Flowers open as female approximately at 2-4pm, followed by conversion to the male stage about 26-27 hours later. Atemoya trees like lots of water, but flooding is lethal. Flowering occurs in fall with fruit ripening 4-6 months later. Atemoya's grow best in tropical or semitropical environments, being hardier than the sugar apple, but less than the cherimoya. Trees growing in warmer, humid areas tend to bear fruit quite well.
Propagation
By seed. Named varieties by grafts.
Uses
The fruits are usually eaten fresh, out of hand.
Native Range
The atemoya is a man-made hybrid between the cherimoya, native to the Andes mountains, and the sugar apple, a native of the Caribbean. The hybrid was first developed at the Miami USDA lab in 1908.
Additional Pictures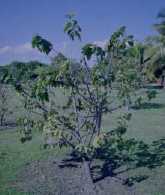 Related Species