Ambarella
Spondias dulcis
a.k.a. Golden Apple, Wi-Tree, Otaheite Apple
Pleasant tasting acidic fruit about the size of an apple with a pineapple-mango like flavor and crunchy texture. Fruit is little known throughout much of the world but better varieties have an excellent flavor.
Seed Availability
Seeds are not available for the Ambarella. Please visit our seed store to view current selections. Seeds were last available in January 2015.
Description
Medium sized tree to 40ft. There are both standard and dwarf forms.
Hardiness
The ambarella likes a humid tropical climate and will not fruit in areas that receive frosts.
Growing Environment
Needs a humid climate with ample rainfall to flourish.
Propagation
Usually by seeds which can fruit in 2-4 years.
Uses
Usually eaten raw.
Native Range
Native to parts of southeast Asia. It is rarely cultivated outside of Asia.
Additional Pictures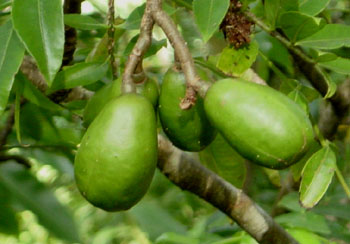 Related Species