Giant Granadilla
Passiflora quadrangularis
Giant green to yellow passion fruit reaching over one foot in diameter. Pulp is not as flavorful as the common passion fruit, but still tasty and often eaten or used in drinks.

Seed Availability
Seeds are now available at our seed store.
Description
Fast growing vine which can grow over 50ft in a single season. The stems are quadrangular in shape.
Hardiness
The giant granadilla is hardy to the mid 30's when mature.
Growing Environment
Loves the warm humid tropics, but will not stand flooding. Protect from freezing temperatures. Fruit forms best after self-pollination.
Propagation
Almost always grown from seeds, but can be propagated by cuttings. Bottom heating the seeds at 70-80F can result in germination at 1-2 weeks, at lower temperatures seeds can take up to 10 weeks to germinate.
Germination Info
It is recommended to pretreat Passiflora seeds before planting. They contain a hard seed coat and are very slow to sprout. There are various pretreatment methods, but the simplest is to soak the seeds for 24-48 hours in warm to the touch water, just prior to planting. Optionally, seeds can be lightly scarified with sand paper to provide some permeation on the seed coat.

Once pretreated, plant seeds 1/2-1" deep in moist, sterile soil. Keep soil temperature consistent at 70-85F, with some day/variation in this range. Cool soils will significantly delay seed germination time if not inhibit germination altogether. Standard room temperature can be too cool for proper germination.

Estimated germination time under optimal conditions: 4 weeks to 6 months.
Uses
Fruit is eaten fresh or used in drinks. The unripe, green fruit is eaten as a vegetable.
Native Range
Native to Central and South America. Heavily cultivated throughout the Americas.
Additional Pictures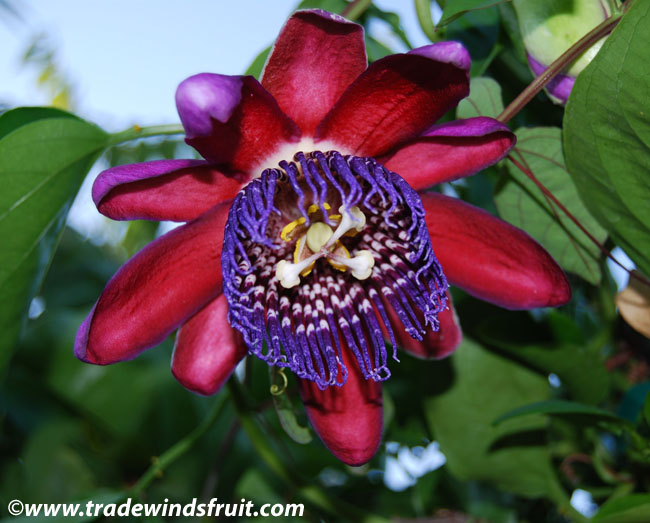 Related Species