Meyer Lemon
Citrus x Meyeri
Small-medium orange yellow skinned citrus with lemon like flesh that is juicy, but considerably less acidic and much sweeter than common lemons.
Seed Availability
Seeds are not available for the Meyer Lemon. Please visit our seed store to view current selections. Seeds were last available in July 2017.
Description
Small tree, generally only to 6-12ft. Its small size makes it a popular container plant indoors in temperate climates.
Hardiness
Fairly cold hardy, surviving temperatures into the high 20's. The Meyer lemon grows well in standard citrus producing climates, but also grows in cooler areas, and areas that receive brief freezes. Sunset Zones: 14-24 USDA: 9-11
Growing Environment
Grows well in full sun or part shade (full sun in cooler climates.) Water regularly, less so during cold months. Fertilize during growing periods.
Propagation
Commonly by grafting cuttings to various citrus rootstocks. Can also be propagated by seed which usually come true, or fairly close to their parent. Takes 4+ years to fruit from seed.
Uses
Fruits are eaten raw, used in making juices, desserts, and for flavoring. The Meyer lemon has become very popular in recent years for its unique lemon-like flavor, without the acidic sourness.
Native Range
Discovered growing as a dooryard tree in Beijing, China in 1908 by USDA plant explorer Frank Meyer. Its history prior to that is unknown. Its parentage is unknown.
Additional Pictures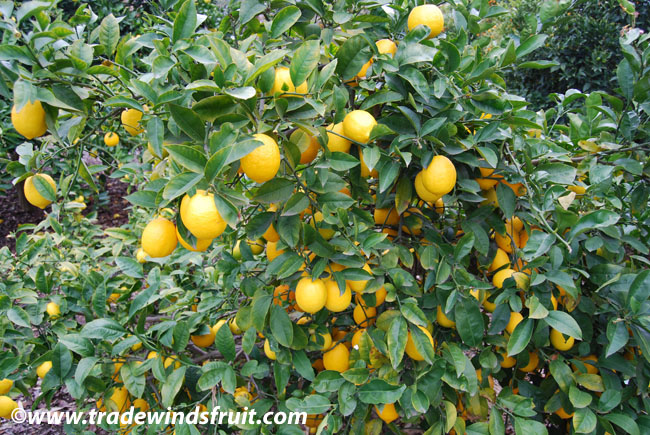 Related Species