Blue Lilly Pilly
Syzygium oleosum
Pink to bluish berry-fruit with a crunchy, watery flavor that has hints of lavender and ginger. Similar to the brush cherry in appearance.
Seed Availability
Seeds are not available for the Blue Lilly Pilly. Please visit our seed store to view current selections. Seeds were last available in November 2015.
Description
Small shrub, bush, or tree to 20-40ft, but can grow taller. Flowers are small and fluffy, with a creamy white color. Flowering is generally in Spring, and is followed by large bunches of the fruit which ripen a couple of months later. Fruits attract many kinds of birds.
Hardiness
The blue lilly pilly is fairly hardy and needs only a subtropical climate to flourish. Protection should be given from long or hard freezes.
Growing Environment
Plants enjoy profuse amounts of water but will grow in drier areas, and grow best in areas of light sun or shade.
Propagation
By seeds or cuttings. As seeds begin germination they will appear to crack open. The roots and main shoot appear from the central portion of the seed.
Uses
Eaten fresh and used in jams, jellies, preserves, drinks.
Native Range
Native to rain forest areas from North Queensland through New South Wales, Australia. The blue lilly pilly is usually found in subtropical rain forest areas, or in rain forest areas near streams.
Additional Pictures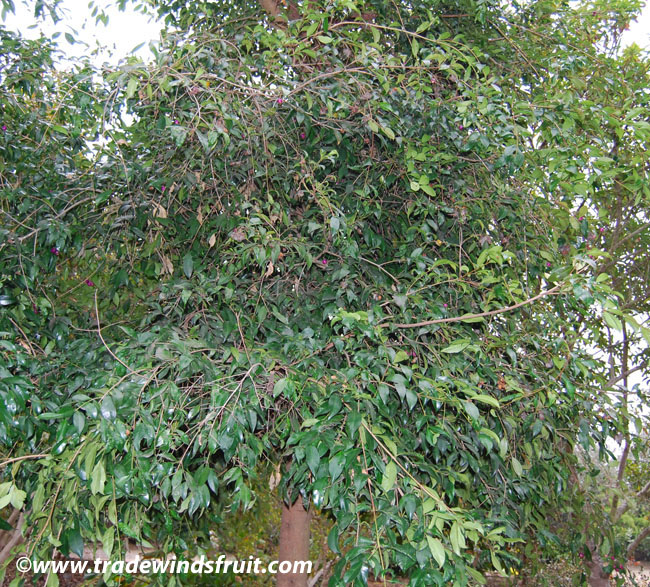 Related Species