Mexican Blue Palm
Brahea armata
a.k.a. Blue Hesper Palm, Brahea Palm
Medium sized palm, probably the "bluest" of all palms, known for its large, silver-blue colored leaves, and edible fruits.

Seed Availability
Seeds are now available at our seed store.
Description
Small to medium sized palm, generally to 20-40ft. The elegant fronds are quite distinctive, most notably for their silver-blueish color.
Hardiness
Hardy to about 15F.
Growing Environment
It is both drought and cold tolerant. It prefers well drained soil, and needs little water when established. This palm also grows particularly well in alkaline soils.
Propagation
By seed, which show erratic germination from 1-10 months.
Uses
The 3/4" fruits are edible. This palm is most commonly grown for its ornamental appearance, mainly due to its pretty, silver-blue colored, fan-shaped leaves.
Native Range
Native to Baja California, Mexico.
Additional Pictures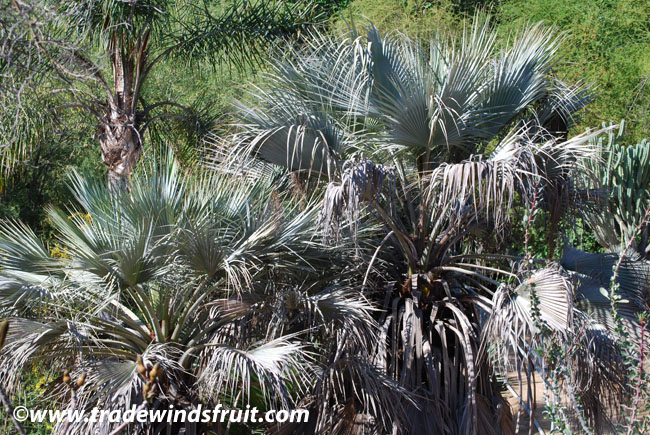 Related Species