Yatay Palm
Butia yatay
An edible fruit bearing palm, closely related to the Jelly Palm. Bears yellow fruits about 1-1 1/2" long. Pulp is fibrous but aromatic, acidic and sweet and is used to make juice.

Seed Availability
Seeds are now available at our seed store.
Description
The tallest of the Butia's, the Yatay Palm can reach as high as 40 feet. Has huge, pinnate leaves with dozens (up to 120+) green-blue pinnae. The leaves can grow to several feet long. Long inflorescences can contain up to 150 flowers, most of which form the numerous small fruits.
Hardiness
Shows solid freeze hardiness to at least 15F and probably a bit lower. Young plants should be protected from hard freezes.
Growing Environment
Grow in full sun. Provide regular water. Fairly hardy once established.
Propagation
By seeds. Seeds should be soaked before planting and are very slow to germinate, taking up to 4-6 months germination time.
Uses
Fruits are eaten fresh, usually processed into juice.
Native Range
Native to Southern Brazil, Uruguay and possibly parts of Argentina.
Additional Pictures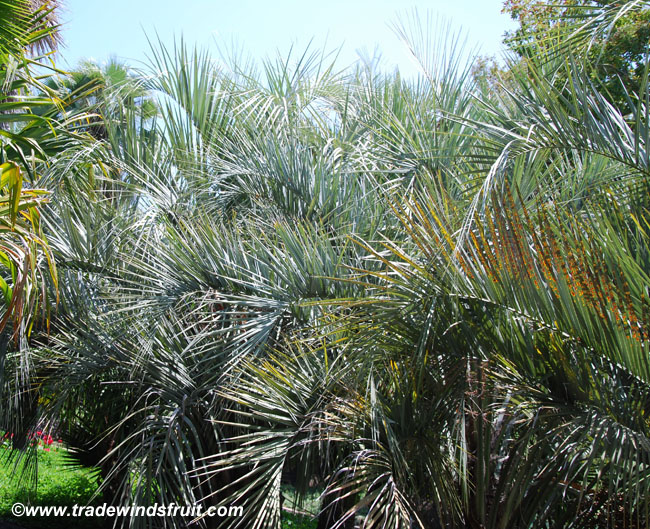 Related Species